Welcome!
---
ようこそ! This is the homepage of me, Kenny, also known as kenizl86 on the interwebs. This site is home to many words (some smart, most not, others are fake) and quite a lot of sillyness, including a lot of blahblah words, which I post every now and again.
ANNOUNCEMENT!
This site just finished transitioning to a new domain and also underwent major backend rehaul (sounds fancy don't it?). Let me know if anything looks broken to you! You can shoot me an email, which can be found on the About page.
Also, I am currently in the process of adding more pages to the site, most of which are still being built and updated live. So check in every so often and see what the progress is!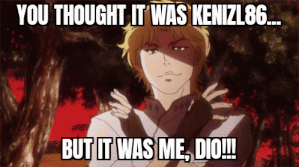 Featured Song: 阿修羅ちゃん, by Ado. I'm so glad Ado has been getting the recognition she deserves, she's an amazing singer. You don't have to know Japanese to appreciate good art :)
Click around and enjoy!
Last Update: 8 May, 2023