Welcome!
---
ようこそ! This is the homepage of me, Kenny, also known as kenizl86 on the interwebs. This site is home to many words (some smart, most not, others are fake) and quite a lot of sillyness, including a lot of blahblah words, which I post every now and again. I am currently in the process of adding more pages to the site, and I tend to be very slow at updating things, so check in every once in a blue-moon to see what's up!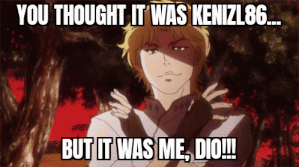 Featured Song: Valhalla Calling, by Miracle of Sound, which apparenlty everyone except me has heard before. Still kicks total ass though. YouTube link here.
Click around and enjoy!
Last Update: 28 Nov, 2023 What Updated: New blog post, quickies